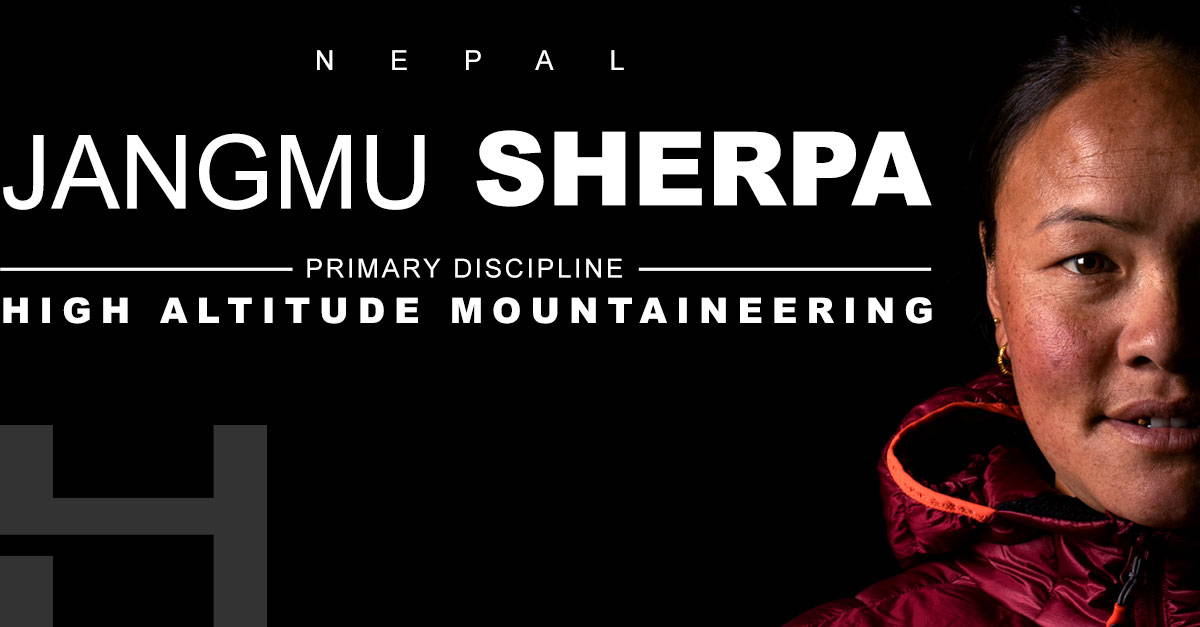 Born in the village of Rolwaling, Nepal, Nima Jangmu Sherpa is a Guiness World Record holder and is the only woman to have ever climbed Nepal's 3 highest mountains in a single season. In fact, she completed Everest, Lhotse, and Kanchenjunga in less than 25 days and will likely be a longtime record holder. At only 30 years of age, Jangmu has a bright future in mountaineering.

Jangmu grew up working in farm, collecting grass and firewood from steep mountain slopes and forest - not an easy set of chores. When Jangmu grew up in rural Rolwaling, education was not prioritized for the girls, so she did not attend school. Her daily life consisted of chores and visits to the local monasteries during rituals and festivities.

As a teenager, Jangmu began to work as a porter to earn money. At only 13 years old, she carried up to 30kg duffle bags and beddings of tourists during trekking seasons, crossing Tashi Lapcha Pass - a pass the connects Rowling to the Everest region and tops out at 5755m - sixteen times in one summer season.

She came to Kathmandu, a 3day trek from Rolwaling, for the first time in 2007 when she was 17 years old. This was her first time seeing a larger city, and she saw well dressed girls of her age going to school. Athough she wanted to attend school, she did not have the resources to do so and returned to Rolwaling.
After her older brother, Mingma G Sherpa, began earning more money as a guide she was able to go to Katmandu more frequently. She quickly adapted to the urban lifestyle and began climbing mountains more regularly. During the spring and fall seasons she returns to Rolwaling to help her mother run a small Tea House.
Her goal is to inspire other women to dream big.

She is currently working on a mountaineering project with her sisters, called 3 sisters 7 summits (
read more here
).
"This is fighting against ourselves and this is fighting against women who think they are not capable of dreaming big and doing big. If we can encourage other women to dream big and fight for it, we will feel we succeed."

Subscribe and Get 10% Off


I confirm that I have read and understood the HIMALI™ Privacy Policy and I agree to the processing of my personal data for marketing and educational purposes.